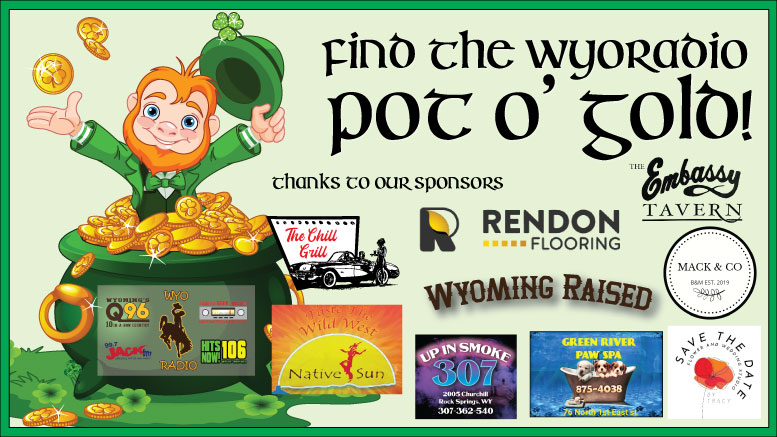 Can you find me Pot O' Gold?
One is hidden in Rock Springs and one in Green River.
Every day I will add a clue, do you think you can deliver?
Thanks to our sponsors!
Mack & Co
Green River Paw Spa
The Chill Grill
Embassy Tavern
Wyoming Raised
Native Sun
Up In Smoke/Vape Escape
Save The Date
Rendon Flooring
Clues will be posted here every day after noon.
Clue #1 Rock Springs: The pot is BLACK with GREEN coins
Clue #1 Green River: The pot is BLACK with GREEN coins
Clue #2 Rock Springs: It was once used for commerce in our cities
Clue #2 Green River: It was once used for commerce in our cities
Rules and regulations:
Promotion is open to all listeners who are legal US residents, 21 years of age or older.
There is no entry fee charged to participate.
The WyoRadio Pots of Gold will be hidden on public property someplace in Sweetwater County. One (1) within the Rock Springs area and one (1) in the Green River area. Both will be hidden in a manner where it can be seen without uncovering, moving, or dismantling any structures.
Starting Monday, March 14, 2022 a new daily clue will be posted at Facebook.com/WyoRadio to the location of each WyoRadio Pot of Gold. Monday-Friday Daily clues are also available at the WyoRadio studios, 2717 Yellowstone Road, Rock Springs, Wyoming between 8 a.m. and 5 p.m. All weekend clues will be available the following Monday.
The last daily Pots of Gold clues will be posted on Friday, March 25, 2022, or earlier if the Pots of Gold have been found.
The person who finds either Pots of Golds will return it to the WyoRadio studios at 2717 Yellowstone, Monday-Friday between 8 a.m. and 5 p.m., and trade it for that particular Pot of Gold Prize Package.
How "Pots Of Gold" winner will be determined:.The person who finds a Pot of Gold will be declared the winner. If said person is 21 years of age or older, they may claim the prize package.
WyoRadio Pot Of Gold Prize: Winner will receive a prize package consisting of prizes donated by sponsors. Value of prizes may vary depending on prizes donated.
A single person can win both Pots of Gold.
Winners will be announced the WyoRadio stations once the Pot of Gold has been turned in and the prize has been claimed. Winners will also be posted on Facebook.com/WyoRadio.
Winners must have valid picture ID to redeem any prize won.
There is no prize substitution.
A winner will forfeit any prize not claimed within thirty (30) days of winning.
If a prize is not claimed, by April 1, 2022, no alternate winner will be selected and the prize(s) will become the property of WyoRadio.
Winners are responsible for all taxes due from the prize won. An IRS Form W-9 with the winner's full Social Security number will be issued with any prize won valued at over $600.00. Failure to submit a complete W-9 will result in forfeiture of the prize.
By participating in this WyoRadio promotion, the winner(s) agree to have his or her name, voice and likeness used in any advertising or broadcasting material related to the "Pot of Gold Promotion", without further compensation.
Decisions by WyoRadio management with respect to this Promotion are final.
WyoRadio reserves the right to cancel, terminate or modify this Promotion as it deems necessary if it is not capable of completion as planned.
WyoRadio reserves the right to make changes in the rules of this promotion, including, without limitation, the substitution of a prize or equivalent value, which will become effective upon announcement.
WyoRadio, in its sole discretion, reserves the right to disqualify any person tampering with the entry process. Failure to comply with these rules may result in a contestant's disqualification and/or forfeiture of any prize or prizes.
Employees of WyoRadio and their immediate families or households, its licensee, participating sponsors and their employees are not eligible to participate.