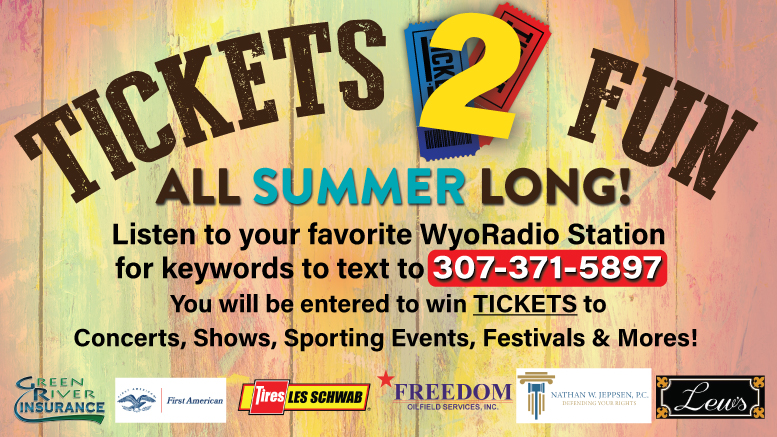 Tickets 2 Fun Contest
WyoRadio will be giving away tickets to various events throughout the summer
Scroll down to see the complete contest rules.
Thanks to our Sponsors
1st American Title
Green River Insurance
Les Schwab Tires
Lew's Dining Redefined
Freedom Oilfield Services, Inc. 
Law Offices of Nathan W. Jeppsen
Tickets 2 Fun Rules
Promotion is open to all listeners who are legal US residents, 18 years of age or older.
There is no entry fee charged to participate. No purchase is necessary
WyoRadio Tickets 2 Fun (T2F) contest is to run on WyoRadio Stations between 7/5/21 and 9/30/21
A person can submit an entry per "keyword" per set of tickets
To become a qualifier for T2F  an individual must enter a drawing by texting the "keyword" and their name to 307-3871-5897
How the winner will be determined:  Winners will be randomly selected from qualifying text messages
Prize: A pair of tickets to an event.  Tickets include concerts, sporting events, festivals, and more.
Winners will be announced on WyoRadio's Facebook page, as well as on WyoRadio Stations. Winner does not have to be listening to claim their prize.
WyoRadio will notify all winners via the phone number that was used to text entry. If contact is not made, WyoRadio will leave a message (if available), the winner then has 24 hours to return the call to WyoRadio to verify their entry and claim their winnings. Failure to do so may lead to the forfeiture of all prizes won.
Winners must have a valid picture ID to redeem any prize won.
There is no prize substitution.
A winner will forfeit any prize not claimed within thirty (30) days of winning.
If a prize is not claimed, no alternate winner will be selected and the prize will become the property of WyoRadio.
Winners are responsible for all taxes due from the prize won. An IRS Form W-9 with the winner's full Social Security number will be issued with any prize won valued at over $600.00. Failure to submit a complete W-9 will result in forfeiture of the prize.
By participating in this WyoRadio promotion, participants agree to have his or her name, voice and likeness used in any advertising or broadcasting material related to Tickets 2 Fun without further compensation.
Decisions by WyoRadio management with respect to this Promotion are final.
WyoRadio reserves the right to cancel, terminate or modify this Promotion as it deems necessary if it is not capable of completion as planned.
WyoRadio reserves the right to make changes in the rules of this promotion, including, without limitation, the substitution of a prize or equivalent value, which will become effective upon announcement.
WyoRadio, in its sole discretion, reserves the right to disqualify any person tampering with the entry process. Failure to comply with these rules may result in a contestant's disqualification and/or forfeiture of any prize or prizes.
Employees of WyoRadio and their immediate families or households, its licensee, participating sponsors and their employees are not eligible to participate.