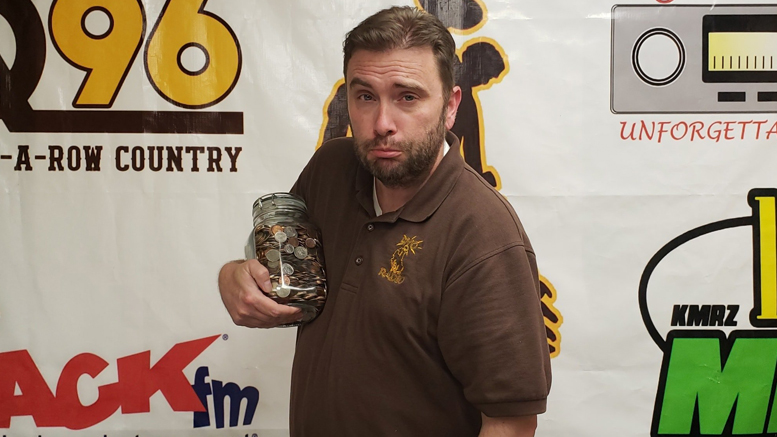 Join in the WyoRadio and Wyo4News Sweetwater Coin Relief Contest! Here's what you do: Just submit a picture of yourself exchanging your saved up coins for paper money or deposit. Text the picture will to 307-389-5712. Along with the picture, add your First and Last name and a guess as to how much money you think is in the WyoRadio Coin Jar (pictured above). The person with the closest guess will win a $200 gift card from Walmart!
Contest end on Monday, September 28, 2020.
Scroll down to see the complete Sweetwater Coin Relief contest rules.
WyoRadio would like to thank the following sponsors:
Rocky Mountain Bank
Aspen Mountain Plumbing
Walmart
See our contest video here.
Sweetwater Coin Relief Rules
Promotion is open to all listeners who are legal US residents, 18 years of age or older.
There is no entry fee charged to participate. No purchase is necessary
A person can submit an entry one time only.
To become a qualifier for the WyoRadio Coin Relief Contest, they must text their entry to 307-389-5712 by September 28, 2020. Entries must include a picture of them exchanging coin, or a Coinstar ticket or deposit receipt with account info blacked out. Entry must also include a guess to the amount of money in the WyoRadio Coin Jar.
A mason jar filled with coins will be named the WyoRadio Coin Jar. Pictures of the WyoRadio Coin Jar will be posted on WyoRadio and Wyo4News Facebook pages. At the end of the promotion, the contents of the jar will be counted by the Rocky Mountain Bank coin machine, and the amount will be announced. This will be recorded on video and posted on WyoRadio Facebook.
How the winner will be determined: The entry with the closest guess to the amount of money in the WyoRadio Coin Jar will be declared the winner. In the case of a tie, the following tie-breakers will be applied. 1) Closest to the amount without going over. 2) In the case of two entries submitting the same guess, the entry that was received first will be declared the winner.
Coin Relief Prize: Winner will receive a $200 gift card from Walmart.
Winners will be announced on the WyoRadio Facebook page, as well as on KQSW, KSIT, KRKK, and KMRZ on Tuesday, September 29, 2020. Winner does not have to be listening to claim their prize.
Winners must have a valid picture ID to redeem any prize won.
There is no prize substitution.
A winner will forfeit any prize not claimed within thirty (30) days of winning.
If a prize is not claimed, no alternate winner will be selected and the prize will become the property of WyoRadio.
Winners are responsible for all taxes due from the prize won. An IRS Form W-9 with the winner's full Social Security number will be issued with any prize won valued at over $600.00. Failure to submit a complete W-9 will result in forfeiture of the prize.
By participating in this WyoRadio promotion, participants agree to have his or her name, voice, and likeness used in any advertising or broadcasting material related to the Sweetwater County Coin Relief Promotion without further compensation.
Decisions by WyoRadio management with respect to this Promotion are final.
WyoRadio reserves the right to cancel, terminate or modify this Promotion as it deems necessary if it is not capable of completion as planned.
WyoRadio reserves the right to make changes in the rules of this promotion, including, without limitation, the substitution of a prize or equivalent value, which will become effective upon announcement.
WyoRadio, in its sole discretion, reserves the right to disqualify any person tampering with the entry process. Failure to comply with these rules may result in a contestant's disqualification and/or forfeiture of any prize or prizes.
Employees of WyoRadio and their immediate families or households, it's licensee, participating sponsors and their employees are not eligible to participate.